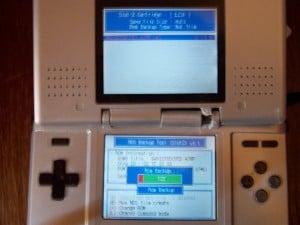 Note the dumping side of this technically misses out a small unneeded part of the header on newer DS games. To that end Wood dumping tools are the suggested tools for games
https://filetrip.net/nds-downloads/applications/download-wood-dumper-tools-wifi-r30-slot-2-r20-f13096.html
However the GUI for this tool is superior and it also dumps and restores saves.
This is a DS rom/save dumper for DLDI supporting GBA slot flashcarts.
Instructions
Setup and run DLDI homebrew as normal.
In menu follow instructions on inserting cart
Press R twice if you want to dump the rom (save dumping and restoration is on the menus before this).
Press B to create a new dump
Wait for dump to finish (a 32 Megabyte / 256Megabit rom goes roughly at the rate of 1% every 2-3 seconds)