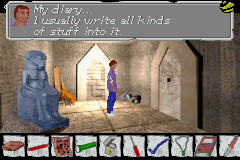 In this point-and-click adventure, mainly being developed by 2 people, you take control over our hero called Russ Kimble.
While trying to aid an old friend, he, by accident, gets himself involved in an epic science-fiction/fantasy-adventure, uncovering a mysterious threat against humanity that was laying dormant for thousands of years...
Visit places no human has set foot on for thousands of years, and discover strange areas nobody knew they'd exist... Fight with weapons in action-sequences against creatures of evil!
Take control over two characters during certain passages in the game! Only teamwork will let you survive! The caracter's clothes are being torn and get dirty through external infulences! You will be shocked by what you will see, where blood is only the beginning...
...mankinds fate lies in your hands...
Change log (3.10.06):
------- BUGFIXES -------
- the black screen bug in chapter 7 should now be gone for good, i've added
some code that automatically fixes corrupt save files while loading them.
You should no longer experience that bug, even if you saved your game with
the old buggy version.

------- CHANGES -------
- milestone riddle in the cave should now trigger a small sequence when solved.
No more input - check - input - check again necessary.