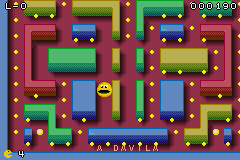 Description:
Months later of making test and demos near end of 2001 y make a clon of pacman game, is a big map always the same across eight levels but more dificult (more ghosts), between levels you can see a little graphical humour, and when you finish a little ending story...
don't play with the volume control this game don't have any sound or music.
Controls:
Too easy the D-PAD for move ACOMAN , and A for a short speed increment (you must wait some time for another boost releasing a pressing the A button). Start to pause the game.