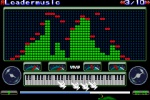 My 4CH Protracker .MOD and Scream tracker .STM player for Gameboy Advance.
User Interface with Spectrum analyzer, Keyboard simulator, VUs, Playlist, Music visualizer, etc.
VMP comes with GBFS support, allowing you to compile your own albuns.
You can compile a 32MB ROM, it gives you almost 10 hours of music on your GBA.
VMP has been tested on real hardware GBASP/GBA Micro/NDS Lite (slot 2) with EZ4.
Controls:
A - While stopped, start playing music, while playing, open playlist.
B - Stop Playing.
LEFT - Previous track.
RIGHT - Next track.
L - Select play mode: Repeat all, Repeat one, Shuffle.
R - Sleep timer.
START - Change display.
SELECT - 1x lock controls, 2x blank screen, 3x start music visualization.