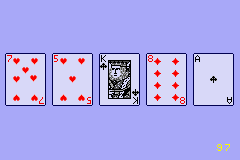 How to play:
The screen is initially blank. Press "start" to seed the random number generator and begin.
A game begins with 100 credits. One credit is spent for each new hand that is played.
A 5 card hand is dealt from a 54 card deck. The deck includes two jokers.
Select zero to five cards to discard using the arrow keys.
- "Left" and "right" select a particular card.
- "Up" pushes that card towards the dealer, indicating you'd like to discard it.
- "Down" returns the selected card to your hand (if you change your mind and want to keep a card).
Once you've settled on the cards you'd like to replace (if any), press "A" or "B."
Payouts use the following table:
ROYAL FLUSH 800
STRAIGHT FLUSH 50
FOUR OF A KIND 25
FULL HOUSE 9
FLUSH 6
STRAIGHT 4
THREE OF A KIND 3
TWO PAIR 2
PAIR 1 (jacks or better)
Press "A" or "B" again to deal a new hand and continue playing.