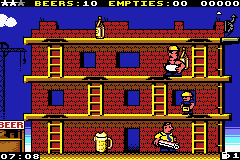 How to play "BEER BELLY BILL: MORNING SHIFT":
---------------------------------------------
- Avoid Beer Belly Bill and lift full bottles of beer to him.
- Drop one of your Premium Beers ™ by pressing Button B
whenever you are in trouble with Bill. The amount of Premium
Beers ™ is shown in the form of mugs at the bottom of the
screen on the right.
- The remaining time of each shift is displayed on the bottom of
the screen on the left.
- Andy can carry up to 10 bottles at a time.
- Press START to pause the game.
- After completing a shift collect as much bottles as you can in
10 seconds.