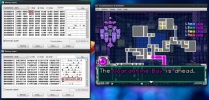 This is a savegame for the (J) version of Metroid Fusion. Since the original US and EU releases didn't include the additional "easy" difficulty, its only possible to play that difficulty in the (J) version.
I changed the language switch in the savegame to use the otherwise unselectable english language text.
I haven't tried playing further, but everything seemed fine until the first savepoint.
I saved at the earliest time possible in the game, which is like 2 minutes in.