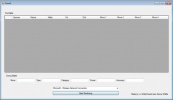 Pokemon X and Y Battle Analyzer is a utility that can read enemy team stats and moves from a network stream of Pokemon X or Y.
Naturally you will need the ability to analyse the network communications of your 3ds, there are various ways of doing it and the PKX dumping/editing guides are a good place to start. Most will probably host a hotspot on their PC though.
Source code (one of the .net family of languages is used) is available.
Change log (1.0):
Initial release.