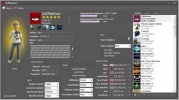 Use this Editor to hack your Gamerscore and other things in your Xbox 360 Profil.
Use this at your own risk!
Change log (1.8.70.1):
-1.8.70.1 Public Beta Release

[CLKsFATXLib] CHANGED: New Version (iDunno about the Version number, he didnt change it)
[Universal] FIXED: Can now be completely used offline
[FileFormats/exGPD] FIXED: "Anonimize" wouldve been skipped
-WTF I didnt code that ...
[frmMain] CHANGED: The way to handle FATX Profiles
[frmMain] ADDED: Baby-Security for "Unlock All"